For some reason when I look at the information of specific cards, the categories are not showing.
See below card is shown in category "30":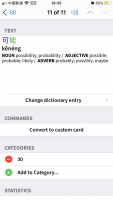 I tapped 'change dictionary / entry' > add > then 'card info' ...

Now in this situation it is shown as ONLY in my HSK card collection: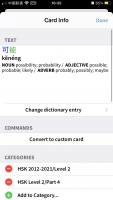 I know this card is in all aforementioned collections so why isnt the category tree showing this? This has happened with a bunch and I expect a few dozen or so more (at least) is the case. I haven't been on a mad spree converting my cards to custom ones, so I'm quite confused.
What's going on here please? I would really like to understand how to use categories properly and avoid duplicates.
Many thanks
(And big respect to all the developers involved in this incredible app - I love it - thank you!)