I came across a
Reddit post
that show how Cloze works to add any sentence from Pleco to Anki with highlighted Blue font and English example but still can't set it up correctly after trying many settings.
My flashcard settings:
Default New Card Model (word) = Basic / Front = Simplified Headword / Back = Simplified Headword+Mandarin Pronunciation+Definition(Include Examples)
Default New Card Model (sentence) = Cloze / Text = Simplified Headword+Mandarin Pronunciation / Extra = Untouched
With those settings, when I add a word to flashcard using Basic, it shows up correctly but not sure how to utilize the Cloze setting.
When I long press + on DICT page and change from Basic to Cloze, it shows up empty. If I switch to SENT page and highlight a sentence and click +, it only shows e.g. 寫日記是一個好習慣。 Xiě rìjì shì yīgè hǎo xíguàn。without any hidden Blue font or English example. Not sure which is also the right way to add a sentence Cloze flashcard.
May I know which settings should I change for the card to show [...] in Blue font for the main word character and pinyin before/after reveal and the English example like on the
Reddit post
?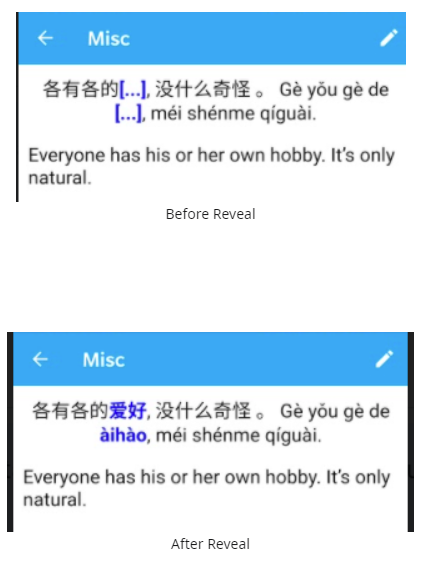 Last edited: