Good day.
I recently purchase the Hong and Qiang text to speech voice.
In the "purchased but not downloaded" appeared the Hong (Enchanted) and Qiang (Enchanted).
The enhanced TTS audio database for Qiang was installed without any problem.
For the Hong Text-to Speach (Enchanted) I'm getting the error:
"Failed; see pleco.com/androidfiles".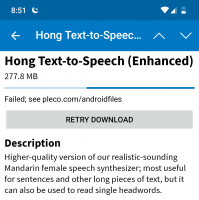 But in this folder, I only find the regular audio TTS (55.2 MB), not Enchanted.
My question is, where can I find the correct installation file for the Hong TTS (Enchanted)?