Can I request that the arrow icons for selecting alternative pronunciation be immediately available within the show dict toolbar?
This would be far more useful as (i) the user can see if alternatives are available during the flashcard test and (ii) currently the only way of accessing the alternatives in your main dictionary is to cycle through every dictionary in order to get back to the main one again.
For example my primary dictionary is OCC and the image below shows just after testing for 发
There are no icons on the toolbar (to the left of OCC). There is therefore no indication of the existence of fa4.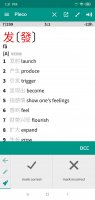 I may be missing something but the only way to access the alternative pronunciation in OCC seems to be to cycle through every dictionary in order to arrive at the following.